Note: Only 2 days left to enter my Le Creuset Valentine's Day giveaway! What are you waiting for? 🙂
Who doesn't like a good bacon weave?
Happy FRIDAY, Noshers!  Wow.  Are you guys excited for the Super Bowl?  I admit I'm not the biggest sports person (those that know me would say that's a HUGE understatement), but if there's anything I like it's the excuse to make tons of food.  All right, we're having a teeny tiny party (read – 2 people, 1 dog) but making way too much food runs in my family – just ask my Mom.  I figure if there's once a year when I can make lots of food that I would normally never make, it would be the once a year (more or less) I watch football….right?
In the past few years, I've really been trying to eat healthier – shopping around the perimeter of the grocery store versus buying more processed foods, and my edited grocery shopping habits have made me feel a lot better! Don't get me wrong – I like a good fancy cheese and charcuturie plate as much as the next person, but overall I've gotten used to the idea of eating more whole, fresh foods.  So, this weekend is a bit of a departure in that a lot of these dishes I'm trying out aren't exactly "perimeter ingredient" recipes (and full disclosure – I usually don't make football-shaped foods), but no time like this weekend to try them, right?  Soooo without further ado – I'll be attempting these recipes this weekend:
Photo Credit: The Small and Chic Home
I was first alerted of the bacon explosion by my friend Jeannine at The Small and Chic Home.  I love bacon, stuffed things, and crafts – so this seemed like a no-brainer.  The top picture is my completed first step of this recipe – the bacon weave!!  This meat-plosion of bacon, sausage, cheese and veggies definitely doesn't sound like an everyday eat, but a once-a-year indulgence is fine, right?
2. Pepperoni Pizza Football Cheeseball
Photo Credit: Mom on Timeout
My friend Morgan from The Handcrafted Life brought my attention to this pepperoni pizza cheese ball – I mean look at it!  I'm simultaneously intrigued and intimidated by this. I was pretty disappointed when I couldn't find mini pepperonis at my grocery store, so the regular stuff will have to do.  I hope it still looks like a football despite the non-mini-pepperoni substitute. Ha!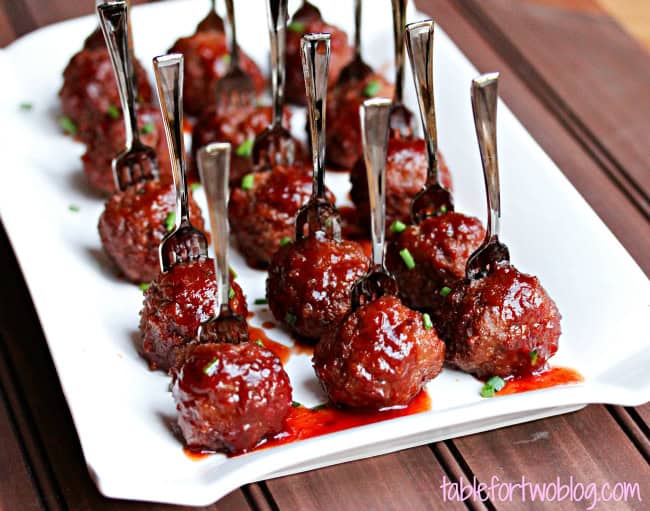 Photo Credit: Table for Two Blog
The immature part of me giggles at the name of this dish, as it reminds me of one of my more favorite SNL skits.  Additionally, I'm super curious about the use of grape jelly as one of the main ingredients.  How does that even work?? But with three ingredients and the use of a slow cooker, I'm sold.
4. Crack Dip
Photo Credit: An Affair from the Heart
I admit I was completely sold on this dip because of the name.  I mean – that's quite a name to live up to, isn't it?  I'm subbing in fat-free Greek yogurt for the sour cream to make it a little healthier.  Mmm.
5. Chocolate Football Cupcakes
Photo Credit: The Baker Chick
I'll probably use my own cake and frosting recipe for this (and maybe put some surprise filling in there too!), but I definitely think these are super cute.  And if they don't look exactly like footballs, well – I'll eat them anyway.  Yes, I'm willing to do that.
So what do you think? Is that enough food for two people and a dog?? 😛  Or will I be seeing some of you on Sunday?
What will you be making for Super Bowl Sunday?